This XI. Festival of International Guitar Academy Berlin is dedicated to the art of the guitar duo, in honour of the Duo Sonare with Thomas Offermann and Jens Wagner.
A super
star
of
the
classical
guitar
in
duo
with
his
friend
Zoran
Dukić
. In 2018
with
a
solo
concert
and
the
performance
of
"The
Walls"
(
Sergio
Assad
)
for
solo
guitar
and
guitar
ensemble
in
Berlin
.
Born
in
Naples
in
1971
,
the
guitar
virtuoso
was
already
described
as
a
"Wunderkind"
at
the
age
of
eight
and
was
honoured
as
"Neapolitan
of
the
Year"
in
1988
.
Conductor
Lorin
Maazel
after
a
performance
with
Aniello
Desiderio
:
"I
have
loved
the
guitar
since
I
was
a
child
,
and
today
I
have
experienced
the
true
sound
of
this
instrument
.
"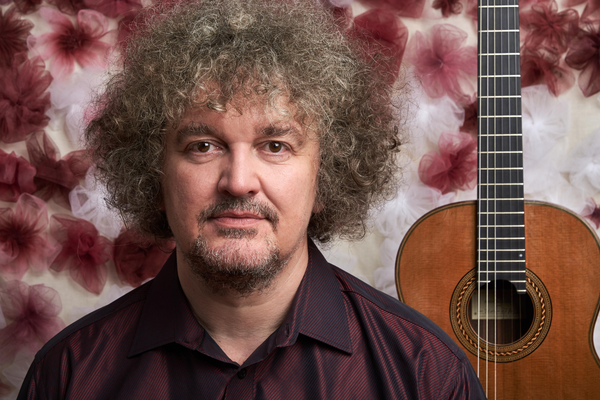 One of the most prominent and distinguished guitarists in the world, for the third time guest at the Festival of the International Guitar Academy Berlin, this time together with Aniello Desiderio. The international press celebrates the technical brilliance and tenderness of his playing, which always serves the poetic dimensions of the music. Il Gazzetino Pordenone (Italy): "… the master of his instrument demonstrated spectacular virtuosity, great maturity and powerful inspiration". Music by J. S. Bach is still the focal point of his musical life.
The Berlin-based guitarist Katrin Endrikat is known for her warm, full sound and the sensitive expression of her playing. She has already thrilled audiences in solo and chamber music concerts in Europe, North and South America with great success. In Germany she was sponsored by the OWL Studienfond, and at Yale University she studied with full scholarship and fellowship. Untill today, she released three solo CD's. Since September 2019 Katrin Endrikat is head of the guitar department and guitar teacher at the Musikschule City West.
Guitarist and guitar teacher Patricia Fiebrich studied classical guitar at the HfM Hanns Eisler and with Prof. Frank Hill in Berlin as well as musicology at the Humboldt University, and completed her education with the subject guitar pedagogy in Trossingen with Prof. Eickholt and Dieter Kreidler. She is an Echo Klassik award winner in the category "Classical Music for Children" and dedicates her work especially to the youngest on the guitar. Since 2014 she is a member of the team of the International Guitar Academy Festival.
Once promoted by Sergiu Celibidache, Edin Karamazov has attracted the attention of the music world worldwide with his stirringly virtuosic performances as a lutenist and guitarist. With internationally leading early music ensembles and artists such as the Hilliard Ensemble, Hesperion XX, Andreas Scholl as well as with STING and Dorothee Oberlinger, Edin Karamazov has recorded numerous CDs and has performed worldwide. With his outstanding skill as a performer and his technical brilliance on numerous historical and contemporary string instruments, Edin Karamazov has thrilled concert audiences.
Colorful, expressive and natural – these attributes characterize the playing of guitarist Katrin Klingeberg, who has been playing the guitar at the age of six. As a soloist and as a member of various chamber music ensembles, she has already performed in many countries in Europe, South America, the USA and Japan. She completed a master's degree and subsequent concert exam in chamber music with her (duo) partner Sebastián Montes with the renowned Kaltchev Guitar Duo at the Stuttgart University of Music and Performing Arts. In addition to her concert activities, Katrin Klingeberg is invited as a lecturer in masterclasses and as a jury member to festivals and competitions.
was born in Amsterdam and grew up in England. She studied music at the Royal Academy of Music, London conducting and piano. Various prizes, master classes with Nadia Boulanger and Charles Mackerras. In 1971 she moved to Germany, where she discovered the classical guitar in 1973. In 1976 she wrote her first guitar compositions, which were published in London in 1979. In 1983 she began a collaboration with the Ricordi publishing house, Munich, which until today has published over 20 volumes of her music – mainly for classical guitar. Her compositions for classical guitar are played with enthusiasm all over the world since.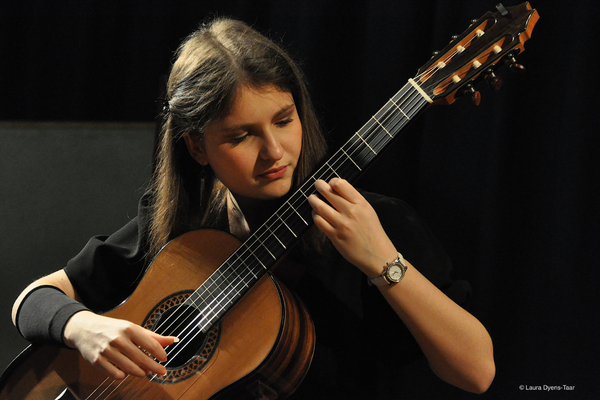 began playing the guitar at the age of 5. At 17, she entered the class of Olivier Chassain at the Conservatoire National Supérieur de Musique et Danse de Paris. Cassie has collaborated with several renowned international guitarists such as Sergio Assad, Jérémy Jouve, Judicaël Perroy, Eric Franceries, Tania Chagnot and Johan Fostier, who have contributed to her artistic development. She won several international competitions. In 2020 she was part of the Eurostrings Artists. Cassie Martin performed at festivals throughout Europe, offering a repertoire of different styles from early music to contemporary music. Cassie is Savarez-artist and plays on a guitar by Fernando Mazza.
won numerous international first prizes. As a soloist, in a guitar duo with Luis Orlandini and as a member of the Cuarteto de Guitarras de Chile, he has performed at major festivals in Central and South America and Europe and has given concerts with the most important orchestras in South America. A scholarship from the DAAD enabled him to study in hmt Hannover. In 2006 his first solo CD "Variaciones para Guitarra" with works by Dowland, Weiss, Sor, Rodrigo and Britten, was released. In 2010, the duo CD "Recital" was produced with original compositions for 2 guitars and arrangements of baroque and South American music. His concert career has taken him throughout Europe, South and Central America, Japan and the USA. Since April 2012 he is professor at the Universidad Católica in Santiago de Chile.
is currently one of the most internationally distinguished guitar teachers. Concerts in more than 40 countries of the world. Eight internationally acclaimed CD recordings with the DUO SONARE document the outstanding value of his work. He teaches an international solo class at the Rostock University of Music and Theatre (hmt Rostock) and is artistic director of the International Guitar Academy Berlin. In 2015, his book "Moderne Gitarrentechnik – Integrative Bewegungslehre für Gitarristen" was published by Schott/Mainz. The English version "Modern Guitar Technique – Integrative Movement Theory for Guitarists" was published by UT Orpheus in 2019. Composers such as Sérgio Assad, René Eespere, Marco de Biasi, Carlo Domeniconi, Marek Pasieczny and Benjamin Verdery composed or dedicated works for guitar ensemble to Thomas Offermann. Since 2010 Thomas Offermann is D'Addario's European Classical Guitar Representative.
Pia Offermann studied guitar in Berlin and Bremen as well as at the Centro Chitarristico "Francisco Tàrrega" Pordenone/Italy with Prof. Thomas Offermann, Prof. Jens Wagner and with Prof. Paolo Pegoraro. Prize winner of the International Competition for Classical Guitar in Krakow/Poland. Soloist and chamber music concert activity, international festivals, juror and lecturer activity at conservatories and universities in Europe, North America, South America and Asia.
10 years teaching artistic education and chamber music at the Hochschule für Künste Bremen. Artistic director of the International Bremen Guitar Art Festival and international youth competition. International promotion of highly gifted students and international first prize winners. Since 2022 artistic director of the LandesGitarrenOrchester Sachsen- Anhalt. D'Addario Artist (USA).
holds three master's degrees in music from the Royal Conservatoire of Scotland in Glasgow, UK (for composition and performance with distinction) and the "Karol Lipinski" Academy of Music in Wroclaw, Poland (for performance with distinction). In 2010, Pasieczny began combined doctoral studies in composition and performance in Australia (Central Queensland Conservatorium of Music) before returning to Europe in 2012 and receiving his PhD in the UK in December 2015. As a composer, guitarist, lecturer, and adjudicator, Pasieczny regularly performs at festivals worldwide.
Pasieczny has composed for and collaborated with musicians such as Pat Metheny, Odair and Clarice Assad, David Russell, Roland Dyens, Carlo Domeniconi, LAGQ: Los Angeles Guitar Quartet, Ana Vidovic, Hilary Hahn and others.
Premieres of his works have been performed at: Peabody Conservatory, Baltimore, USA (2012), Conservatoire National de Strasbourg, France (2011), He Luting Hall, Shanghai, China (2008), BBC Scotland, UK (2007), Royal Albert Hall, London, UK (2004), Sala im. W. Lutosławskiego (2003) (Warszawa), Carnegie Hall, New York (2006, 2014). In 2012 Pasieczny became a D'Addario artist and also appeared on the cover of Classical Guitar Magazine. At the Festival in Berlin, Marek also teaches composition in his masterclasses.
was born in Rakovnik (Czech Republic). He studied with Milan Zelenka and Stephan Rak in Prague. Winning the first prize at the International Competition "Radio France" in Paris in 1982 was the beginning of a stellar career. In 2003, the Italian guitar magazine "GuitArt" placed him among the eight most important guitarists of the year. With concert tours through more than 40 countries of the world, Pavel Steidl is now one of the most important guitarists worldwide.
is a guitarist and guitar teacher, born in Israel. Guy is currently performing his solo program "Goya's Spain" in Berlin and surrounding areas. He achieved second place in Israel's national guitar competition at the Academy of Music and Dance in Jerusalem in 2007 and was awarded a scholarship from the American-Israel Cultural Fund. He graduated from the "Hanns Eisler" Academy of Music with a Bachelor's degree under Prof. Eugenia Kanthou. He then completed his Master's degree at the University of the Arts in Berlin with Prof. Thomas Müller-Pering in July 2021 with the highest grade. Since January 2021, Guy has been teaching at the state music school "City West" in Charlottenburg-Wilmersdorf.
His work focuses on traditional and contemporary music from Latin America as well as on music of the early 19th century. Besides his work as a soloist, he currently performs with the duo "Piarango" and the baroque ensemble "Los Ympossibles". From 1991-2001 he worked as an assistant of Abel Carlevaro in master classes and seminars throughout Europe. As a guitarist and master of the Charango he gave concerts all over Europe, the USA, South America and Japan.